Schedule your appointment today by calling (207) 924-2211
A standard home inspection includes a visual examination of the systems of the home where they could effect the value of the home or the safety of its occupants.
We Inspect:
Driveways and Walkways
Exterior Wall Covering Materials
Eaves, Soffits, Fascia
Windows
Exterior Doors
Flashings and Trim
Stairs, Stoops, Stairways and Ramps
Porches, Patios, Decks, Balconies and Carports
Railings, Guards, Handrails
Vegetation, Surface draining, Retaining Walls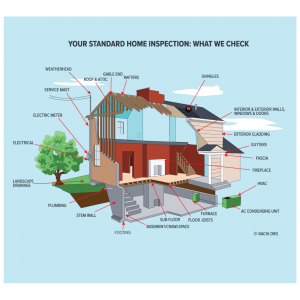 Roofs, Gutters, Downspouts, Vents
Flashings, Skylights, Chimneys
Electrical System
Plumbing System
Interior Doors, Windows, walls, floors and Ceilings
Fireplace, Woodstove, Pellet Stove
Furnace, Hot Water heater, Sump pump
Foundation
Faucets and Fixtures
Sinks, Tubs, Toilets and Showers
Cooking Devices, Countertops and Cabinetry
Attics and Crawlspaces for Insulation materials and venting
Active water leaks and Structural Components
Patriot home inspections follows the InterNACHI standards of practice. You can see a copy of it by clicking here.